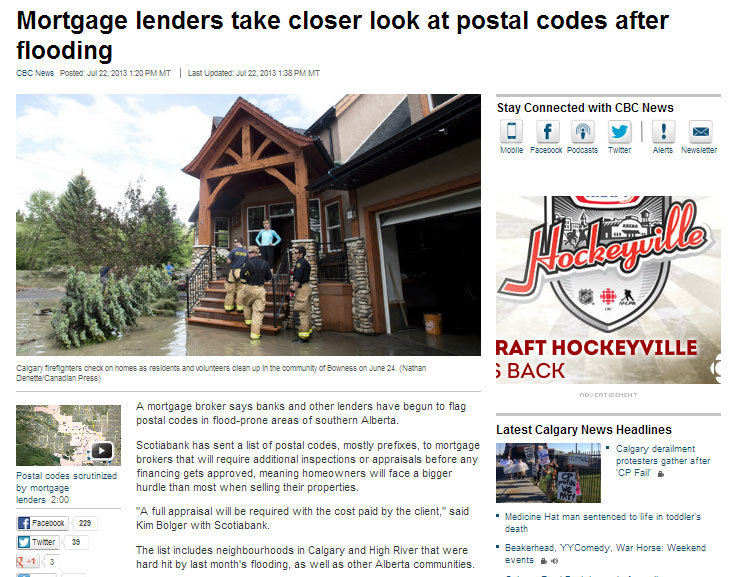 Experts say the flood that hit southern Alberta last June 2013, which took its toll on Calgary's richest suburbs, was unlike any other in North America. Weathermen expected a typical storm, only to get driving rain that would spawn the worst flood in Alberta's history. In an article written over a month later, CBC News reported that the real estate market in Calgary also took a serious hit because lenders were reported to have been looking into postal codes before financing.
This is an unusual development in real estate standards, but mortgage brokers tell CBC News that the lenders are simply being vigilant. The postal codes flagged by lenders include Calgary, Medicine Hat, Black Diamond, Cochrane, and High River (the ground zero of the flood). Homes in these flood-prone areas will require further appraisal before a reputable Calgary mortgage broker can furnish the proper financing; this means increased difficulty in buying or selling homes in the flagged areas.
By reassessing home values in these areas, lenders hope to be financially secure should another flood or natural disaster strike. Customers in these areas, in this case, are urged to furnish a complete damage report on the house after the flood for mortgage assessment. If not, the lenders may initiate a thorough inspection of the site and adjust the value of the property based on the results; sales show that almost a thousand homes will be affected by this policy change.
In a poll that complements the CBC News report, 78 percent of voters (1,261 out of 1,609) agreed to the austerity measure. While it may inconvenience buyers and sellers now, the new policy will benefit both the community and lenders in the long run. Lenders can protect their money from shouldering costs as a result of acts of nature, while clients will be more prudent in looking for homes in the flagged areas; thus, the result is a win-win situation.
It should be noted that the policy doesn't mean clients in these affected areas will be denied a loan in the future; depending on the results of the enhanced appraisal, a mortgage broker in Calgary may lend less money. In addition, not all postal codes in Calgary are flagged, meaning not all of the city is in danger of being flooded. To make the most out of a mortgage, look for homes in postal codes that aren't flagged as danger zones.
Consult a mortgage broker like Ultimate Mortgage Partners to review your choices in coping with the new policy. Whether you're applying for a refinance or mortgage for the first time, there's no doubt that tomorrow's lenders will be more careful with their money. When that happens, you'll want a professional to see you through.